Are there easy ways to earn Ohana Perk Points? Yes!
Updated 5 months ago
Earning Ohana Perks points is an excellent way to get discounts and exclusive perks. By following the steps below, you can quickly accumulate points and redeem them for rewards. Make sure to join and participate in all the opportunities available to maximize your points and savings.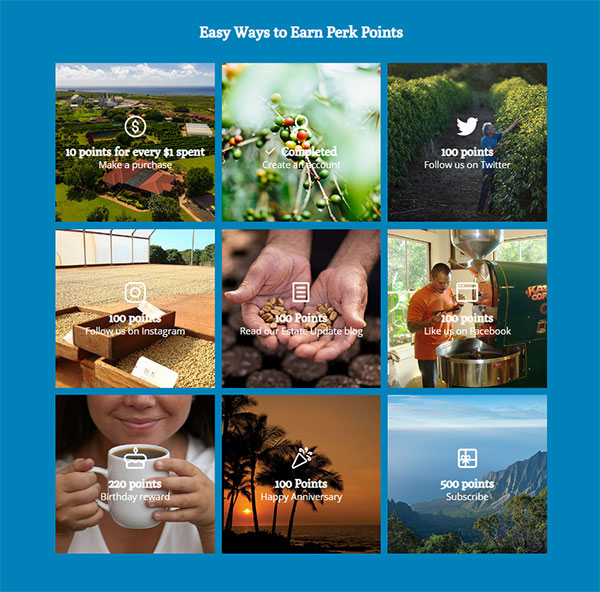 Join the program by visiting the Ohana Perks page here. Upon joining, you'll receive 400 points as a welcome bonus. You'll also get access to exclusive offers and discounts.
Make a Purchase: The easiest way to earn Ohana Perks points is by making a purchase on Kauai Coffee's website. For every dollar you spend, you'll earn ten points. For example, if you spend $50, you'll earn 500 points. You can also earn bonus points by participating in promotions.
Refer a Friend: Kauai Coffee's referral program allows you to earn 1000 points for every friend you refer to the website. Your friend will also receive $10 off on their first purchase. To refer a friend, share your unique referral link via email, social media, or text. 
Follow us on Social Media: Kauai Coffee's social media pages are a great way to stay up-to-date on the latest news and promotions. By following Kauai Coffee, you can earn 100 points for each platform. Click on the Facebook, Instagram, and Twitter squares on the Ohana Perks page and follow the instructions.
Celebrate Your Birthday: Kauai Coffee wants to celebrate your special day by giving you 200 points on your birthday. To receive the points, make sure to enter your birthday on the Ohana Perks page, and they will be awarded on your birthday. 
Anniversary Points: On your program anniversary date, 100 points will be awarded to you.
After becoming an Ohana Perks member, earn 500 points by subscribing. 
Note:
Points expire 12 months from last purchase. 
Ohana Perk Points are awarded once your purchase has shipped. 
Redemptions are limited to one reward per order.
Ohana Perk Points can only be earned and redeemed online.
Free Shipping Reward Is Not Applicable For International Shipments
If you have any further questions or concerns regarding earning Ohana Perks rewards, please contact us through the online chat located at the bottom of this page.
Was this article helpful?