Where do I apply a coupon code?
Updated 5 months ago
Considerations 
Only one discount code may be applied per order. If you have multiple coupon codes to utilize, we suggest first using those that will expire, such as a promotional event or a birthday coupon.
Remember: we are not able to apply discount codes after the order has already been placed. So make sure to apply the code before processing the payment.
Express checkout methods: Using the following express checkout methods bypasses the option to enter a coupon or redeem Ohana Perk points: Apple Pay, G Pay, Meta Pay, and PayPal. 

How to Apply
Codes must be entered at checkout after items have been placed into the shopping basket.
On desktops, laptops, and large tablets: enter the code in the white box that contains the text 'Gift card or discount code' and click the Apply button: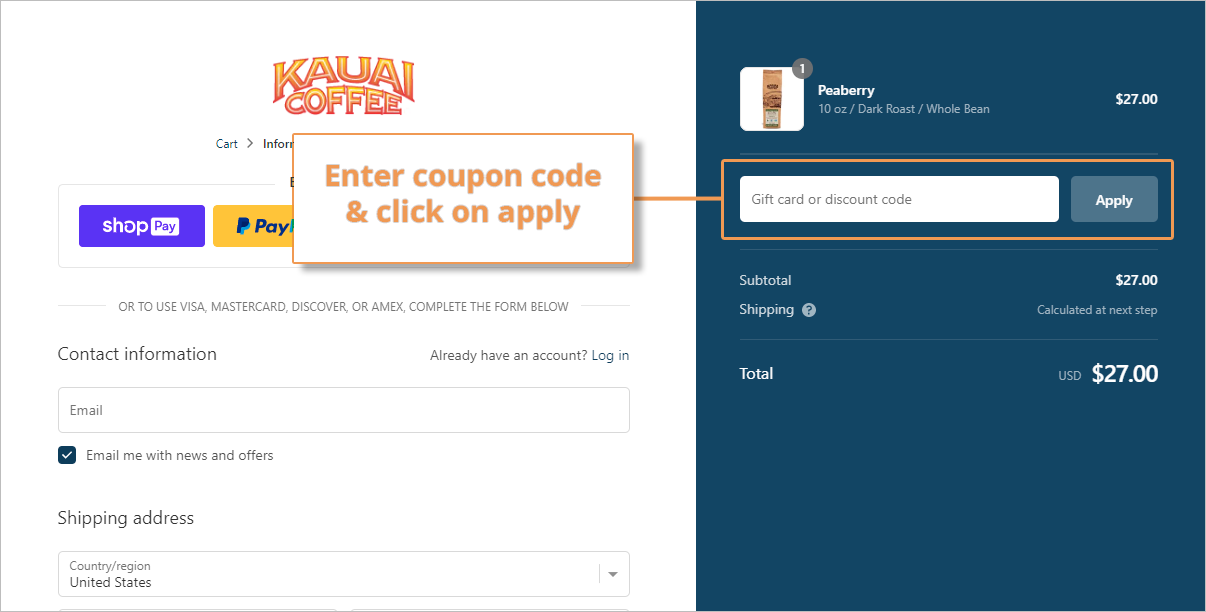 On mobile devices and smaller tablets:
Coupons can be applied using Shop Pay. However, Ohana Perk points and rewards are not able to be redeemed when using Shop Pay. 
To redeem points, Shop Pay must be bypassed. To do this, log into your Kauai Coffee account with a password, and close the Shop Pay popup window that asks 'Confirm it's you' without entering the six-digit code. 
Or, if you have already logged into Shop Pay, click on "Check out as guest' to redeem Ohana Perk points.
If you have any further questions or concerns regarding applying coupons, please call us at 800 545-8605 ext 2 or contact us through the online chat found at the bottom of this page.  
Was this article helpful?